DC, we can't get enough of you! Our passion for your pups simply can't be contained by our two current locations, so we're opening a third facility this fall. Set in the Trellis House building, our upcoming Shaw location will be an exciting addition to our service offerings in Northwest DC.
This new 3000+ square foot facility will include multiple playrooms to ensure that dogs of all sizes, ages, and energy levels have the perfect place to play. FUNiture play structures, Protect-All flooring, and dedicated water sources with industrial drains will ensure every pup enjoys our signature blend of fun and safety. Above the field of play, state-of-the-art HVAC systems will keep the air so fresh and so clean, preventing cross-contamination between spaces and providing a constant supply of clean air to each area of the facility.
We're excited to introduce some new service offerings for our friends in NW DC, including a full-service dog spa, private boarding suites, and playpark rentals. And don't think we forgot about the humans! Our Shaw daycare and boarding facility will feature dedicated customer parking in the Trellis House garage, making drop-off and pick-up a breeze.
When asked how this new location fits in with our original home in the Park View neighborhood, District Dogs owner Jacob Hensley said,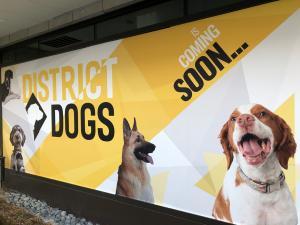 "We absolutely love our Park View community and plan to continue operations at our existing location through the lease term and hopefully beyond. The Shaw facility will be a much bigger space, allowing us to offer an expanded menu of services. It also means being able to serve more dogs and their owners for daycare and boarding, while providing broader access to services previously only available at our Navy Yard location."
Whether you're looking for daycare, overnight boarding, or a soothing spa session for your pup, we can't wait to welcome you to District Dogs Shaw.